Application
Registration and Abstract/Full paper Submission Procedure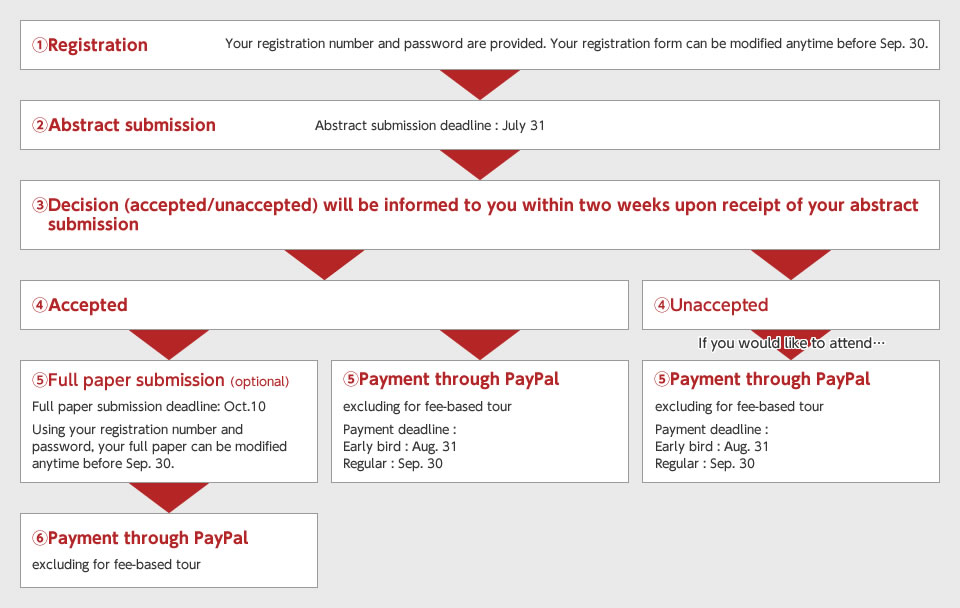 REGISTRATION INFORMATION
Payment Instructions
For online registration, registration fee may only be paid by Visa, Master, or American Express Card through PayPal.
Registration Fee
Early
(~Aug. 31)
Regular
(September 1~30)
ANPOR Member
100.00 USD
150.00 USD
Nonmember
150.00 USD
200.00 USD
Student
100.00 USD
150.00 USD
Each complete registration fee includes:
Admission to all oral & poster sessions
A printed conference program
Conference banquet on November 30*
Lunches on November 29, 30*
20 copies of your full paper
Tutorial session on November 30 - For more details, please see the abstract.
Post-conference tour : Course A
We also offer other fee-based tours, Course B, C, D. Please see "Travel Info" page.
*You must reserve your place at the banquet, and/or lunches as well as local trip. There is no additional fee, but in order to ensure that the right numbers of meals are prepared, we need to know the number of people who plan to attend these events. You may reserve your place at these events on your registration form.
TYPE OF PRESENTATION
Oral Presentation
There are two types of oral presentation: general presentation for one of the fourteen pre-determined big sessions and presentation for a pre-organized session which is organized by your session leader/organizer.
If you belong to a pre-organized session organized by your session leader/organizer, that is, if you know your session leader/organizer, choose "pre-organized session" and follow the registration procedure.
The pre-organized session may be one of the fourteen big sessions or may have a different topic than the fourteen topics.
Otherwise, you would apply for a general presentation and you must choose one of the fourteen topics on which you wish to make a presentation. Your application is subject to review and the decision (accepted/unaccepted) will be informed to you within two weeks upon receipt of your abstract.
Poster Presentation
An application for a poster presentation is also welcome. If you would apply for a poster presentation, you must also choose one of the fourteen topics.
SUBMISSION OF ABSTRACT
Guidelines
All participants (including distinguished lecturers, discussants, invited speakers) who wish to give a talk or present a poster must submit an abstract.
Decision (Accepted/Unaccepted) will be notified to sender soon after the submission is made.
Only online submission will be subject to review.
The Abstract should be 200-400 words long in English.
The Abstract should include keywords/phrases.
Late submission will not be accepted.
All the Abstracts (even for the Poster sessions) of accepted presentations will be included in the Conference Proceedings.
The editorial team reserves the right to edit general information and format of abstracts for standardization.
Deadline for abstract submission is July 31
SUBMISSION OF FULL PAPER (OPTIONAL)
Guidelines
If your Abstract is accepted, you can submit your full paper.
Submission of full paper is not must.
20 copies are provided for each presentation. If you wish additional copies, you must prepare by yourself.
Only online submission will be accepted.
Only Microsoft Word file (.doc) will be accepted.
The full paper should not exceed 4,000 words.
The template is available here.
Deadline for paper submission is Oct.10
ANPOR has its own quarterly journal, AJPOR. We encourage paper givers to submit to their respective papers to AJPOR. For details please visit http://anpor.org/en/ajpor.php.